Thursday June 8, 2023
Latest:
18 total views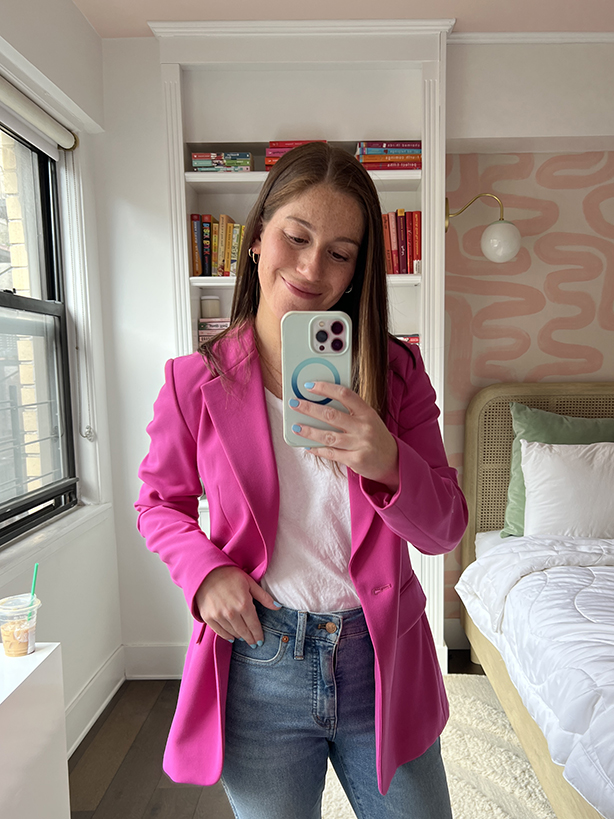 What I'm Wearing…
The perfect pink blazer
I've been on the hunt for a bold colored and slightly over-sized blazer and was so excited to finally find the perfect blazer of my dreams. Heads up: It runs a bit on the petite side.
The best cover-up
This gauzy cover-up was a favorite of mine on a beach vacation last month.
Another thing I've been on the hunt for: A simple, ribbed, full-length tank to tuck into jeans and trousers. This one is the right amount of scoop neck and stretch. I'm already thinking about ordering a few more as I have a feeling I'll be wearing them constantly this summer.
A new favorite bathing suit
I've been loving this scoop neck bathing suit top and high waisted bottoms for the last few summers. I'm excited for the new light purple color they come in 😍
I'm in my trouser era?!
I never thought I'd say this but I'm *really* into wearing trousers these days. They're honestly more comfortable than jeans to me. I'm looking forward to wearing these dark green ones and these linen ones this spring and summer. For fellow petite friends be sure to check out the short options.
What I'm Watching…
The Are You There God? It's Me, Margaret movie
My mom is a children's librarian and introduced me to Judy Blume books. I immediately fell in love with her writing and how she was talking about things no one else was. My mom and I continue to share a deep love for all things Judy Blume so of course had to go see the new Are You There God? It's Me, Margaret movie in theaters together.
It was *incredible* and so beautiful captured both this iconic book but also that feeling of being 12 years old and confused about everything.
Dave Season 3
I've loved Lil' Dicky's show Dave since it first aired in 2020. It's a somewhat autobiographical comedy about a rappers rise to fame in LA. Season 3 has been especially great and funny so far.
Ted Lasso Season 3
I'm new to the Ted Lasso obsession but have made up for lost time and have watched most episodes a few times now. Season 3 has been a bit hit miss for me, but when it's a hit it HITS. We shall see how it all ends.
What I'm Listening To…
This playlist of the Era's Tour setlist. I'm officially less than one month away from see Taylor Swift in concert!
News
Stephanie Sanzo's Motivational Secrets for Women's Fitness Success Revealed #shorts #stephaniesanzo . . #workout #fitness #gymmotivation #bodybuilding #bodybuildinglifestyle #bodybuildingmotivation…