33 total views
YouFit wants to help you achieve the best version of yourself in 2023 by filling your fridge with healthy (and delicious!) meals, 10 personal training sessions and $500 of gas money to make sure you make it to the gym!
The Challenge
Check in for a workout at your favorite YouFit Gyms now through February 28th to enter to win! The more you check in, the more chances you have to win.
Members only. Ends February 28, 2023 at 11:59 PT.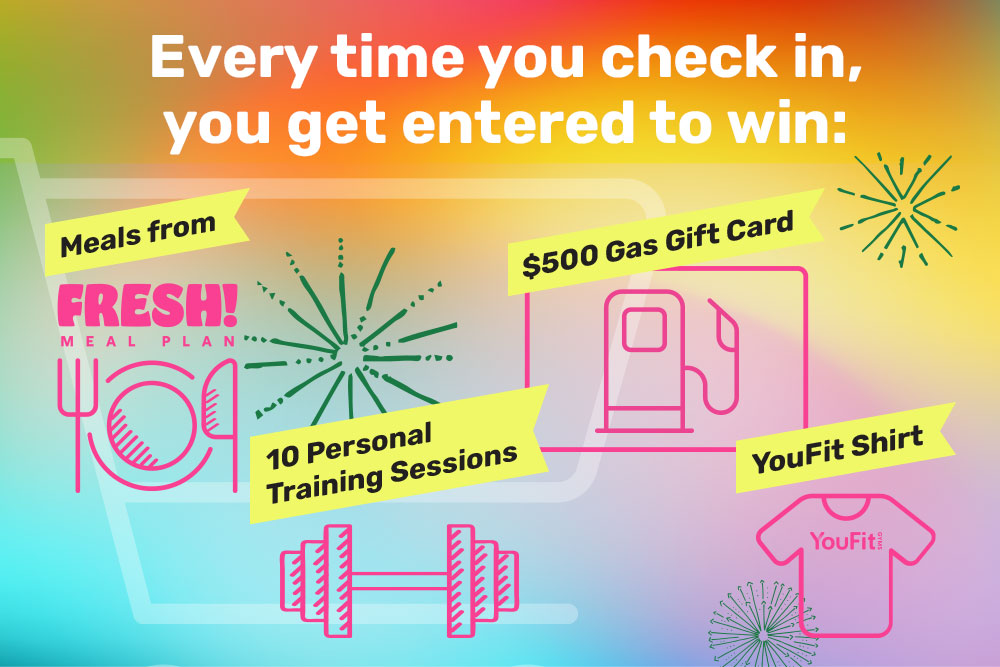 The Prizes
→ Two weeks of Fresh Meal Plans (ARV: $228)
→ 10 Personal Training Sessions (ARV: $350)
→ Gas Card (ARV: $500)
→ YouFit T-Shirt (ARV: $25)
Total Approximate Retail Value $1100.
The Rules
→ Must be a YouFit Gyms member to participate.
→ Must check-in at the front desk every time you visit YouFit for a workout.
→ Only member check-ins will be counted from February 1st – February 28th.
→ Each check-in is an entry to win.
→ Only one (1) YouFit Gyms member who checks in will win.
→ Brownie (a healthy one that is!) points if you refer a friend!
The Dates
→ The check-in challenge starts February 1, 2023 and ends February 28, 2023.
The Benefits
→ You'll create a consistent workout routine.
→ You'll start seeing results. Check-in in and workout at YouFit Gyms as many times as you can (2x a max recommended) and you'll notice the changes by end of these 28 days.
→ You'll start the New Year off right!
→ You'll be automatically be entered to win the grand prize that will help you continue your fitness journey.
What are you waiting for? Get dressed and we'll see you at the gym!
Not a Member? Join YouFit Gyms today for $0 Down!
News
women's fitness workout videos female fit body workout #viralvideo #youtubeshorts #fitnesschaudhari your Quick- grow female fitness motivation, alpha motivation,…