53 total views
It's time for my Nuuly review! I've been using the clothing rental service for about 4 months now. I wrote about my personal fashion dilemma here and ultimately decided to try out renting clothes as a way to refresh my closet. So much of what I owned was feeling so *blah* but I also didn't want to totally invest in overhauling my whole closet.
Here are my super honest thoughts on using Nuuly after these 4 months.
Sign up now here and get $10 off your first month (I get $10 off my membership, too!)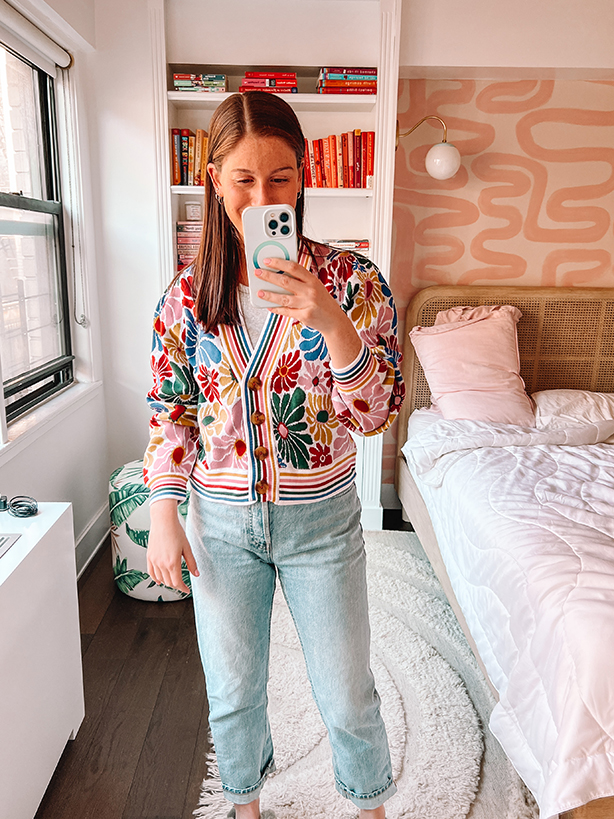 My Nuuly Review:
What is Nuuly?
Nuuly is a clothing rental subscription from the same company that owns Anthropologie, Urban Outfitters, and Free People.
How does Nuuly work?
It's pretty simple: For $88 a month, you pick 6 clothing items to rent for a month. They send the clothes to you in a carrier bag. At the end of the month repack the bag and ship it back using the return label already included.
They'll do all the cleaning, repairs, etc. If you find something you love you can also purchase the item at a discount. You'll be charged on the same day every month but there's also an option to pay and "unlock your box" early if you want to swap things out sooner.
You can also technically keep your box for as long as you want if you're traveling and need it for a few extra days… or just bust.
How I've been using it:
I own the basics already:
Simple t-shirts and tanks that are great for layering.
Trousers and jeans that I love the fit of
ALL the black yoga pants
Since I have the basics, I've been mostly using Nuuly as a way to spice up my wardrobe with fun sweaters, blazers, and cardigans for the winter. Things I can mix and match with the pants and tees I already have. I usually get *so* sick of wearing the same sweaters over and over again all winter and this has kept things feeling fresh.
I'm someone that also wears a lot of black. What can I say, I've lived in New York my whole adult life. I've been challenging myself to have a bit more fun with Nuuly and pick colors and patterns that maybe I wouldn't want to have in my closet forever, but are fun to have for the month.
Why I chose Nuuly over Rent the Runway:
When I was deciding what rental service to try out, I ended up going with Nuuly because what I was seeing on their website seemed more in line with my personal style. Nuuly is great for casual outfits whereas I think Rent the Runway might be better if you're wearing business attire to work or get dressed up a lot.
I've only ever used Rent the Runway to rent fancy dresses for weddings though so can't speak to the specifics of how their monthly subscription works.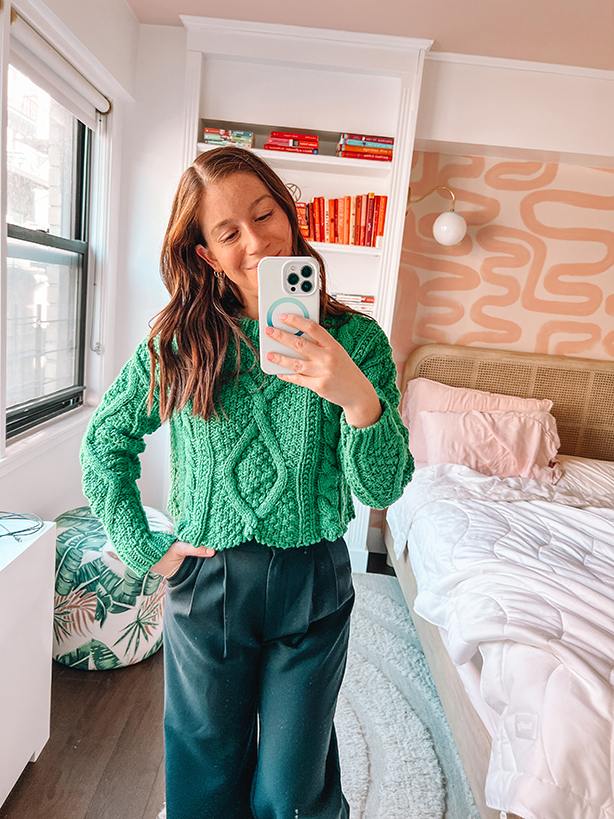 What I like about Nuuly:
Lots of great items to choose from
I've found the clothing available on Nuuly to be perfect for me and my everyday life. They have a lot of brands I love like things from Anthropologie and Free People of course but also Farm Rio, Agolde, and lots more that I've been falling in love with.
Every month I struggle to dwindle down my picks to *just* 6 items because I want to try so many things. It's a good problem to have!
I will say some of the items are a bit too "Gen Z" for me as someone in their 30s, but there's plenty to choose from that are my vibe.
Great website design
I've found the website easy to navigate. You can save favorite items to your "Closet" and find them again later. There are lots of filters and ways to sort through the clothing selection. It's clear they've put a lot of thought and care into the website design.
The reviews are *so* helpful*
People that write detailed reviews on Nuuly are the true heroes of this website. I love that I can scroll through and find someone with a similar body to me and can figure out if something will fit.
With renting lots of sweaters I'm SO grateful for people that report back on which sweaters are itchy versus not.
Easy to use
The whole process couldn't be easier. Pick your items online, it gets shipped to you, and then send it back with the shipping label at the end of the month.
I live in NYC so returns are easy for me — I have an UPS drop off spot around the corner from my apartment that never has a line.
No surprise fees
There are no upcharges or late fees.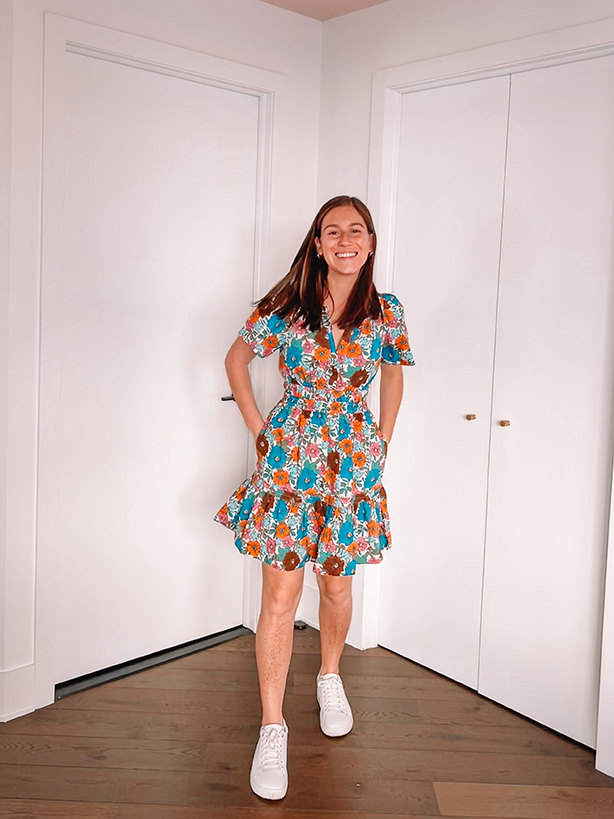 What I don't like:
Some items are newer than others
Sometimes you get an item that's brand new and still has the tags on it (it's happened to me a few times!) Other times you get something that's seen better days.
While I've never gotten anything with a huge hole, there are times when a sweater has some really obvious pilling or a blazer seems pretty worn in.
You can't try anything on beforehand
I know this is almost impossible but I wish you could go to Anthropologie and try on a small selection of items.
The risk of not liking things
There have been times when my box arrives and either I don't like a few of the items or they just don't fit. There's no way to swap out those items so it feels like a bit of a loss.
I swear I've ordered a pair of jeans in almost every box and have yet to have any success with liking the fit. Knowing this I've mostly stuck to clothes where sizing matters less like an oversized sweater.
Sometimes there's a strong smell of detergent
This one might be a "me" problem but sometimes the clothes smell SO strongly of the cleaning detergent they use.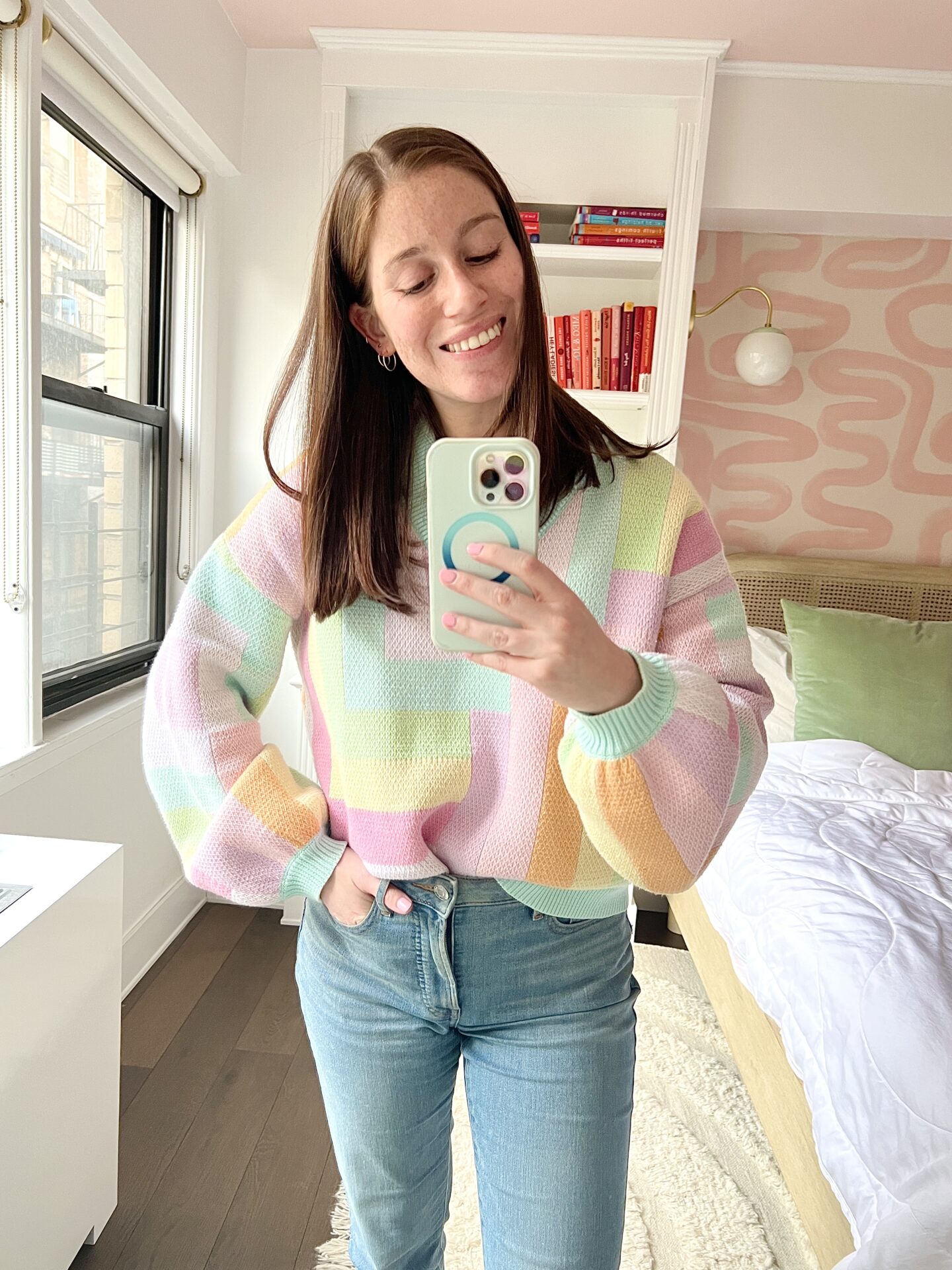 All in All:
For me, the positives of Nuuly have outweighed the negatives. I've enjoyed using Nuuly as a fun way to refresh my wardrobe without investing a ton in buying all-new clothes. It's also been a way to try some clothes that maybe I don't want to own forever but are fun to wear for a month at a time.
I'm especially excited to continue to use it this spring/summer for cute dresses and shorts.
Sign up now here and get $10 off your first month (I get $10 off my membership, too!)
News
Maintaining a healthy weight is a common goal for many individuals, but there are instances when weight loss occurs…