68 total views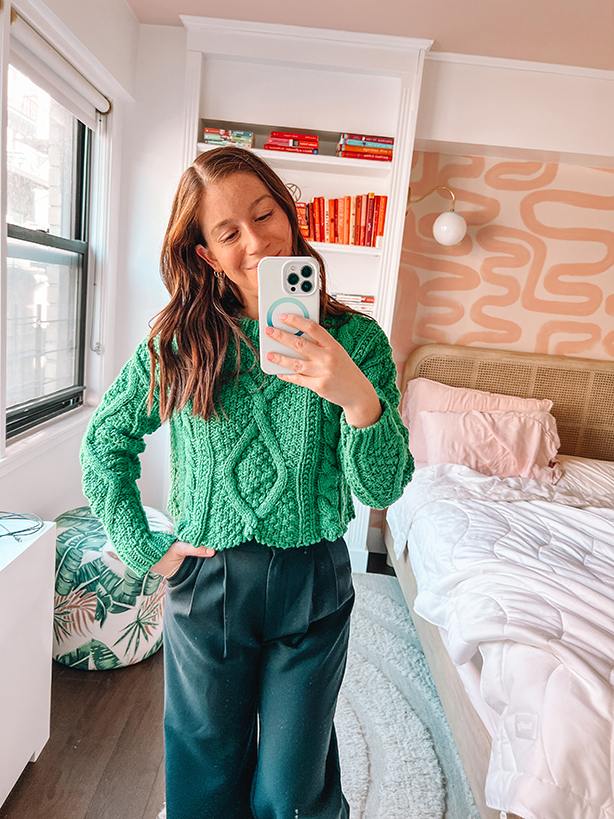 How cute is this cropped green sweater? I'm a bit of a sucker for anything green with my auburn hair and have been pairing the cozy sweater with high-waisted trousers.
The Hyaluronic acid serum from The INKEY List: This hyaluronic acid serum is super hydrating but less than $10! Pro tip: Always apply hyaluronic acid to damp skin otherwise it will actually dry your skin out more!
This face cream from Skinfix: Also on the topic of skin hydration… this face cream has been SO good for my dry winter skin. It's the right amount of thick without being too greasy.
The BEST hand cream: I asked my dermatologist for a hand cream recommendation to fix my cracked winter dry skin. He recommended the Neutrogena Norwegian formula hand cream and it's incredible. A little goes a long way and I've had zero issues with dry skin on my hands since I started using it.
This shampoo and conditioner combo from Function of Beauty: I've used the Function of Beauty customized shampoo + conditioner before (review here) which is great but also a bit pricey. They started selling a more basic, less customized product at Target and I've been really loving it. I added the additional anti-frizz "booster" to it and my hair has been super shiny and easy to manage. Plus it smells great.
I'm obsessed with this sweatshirt. It's perfect with leggings and cute sneakers for an easy weekend outfit for running errands.
This candle was a sweet gift from my boss for hitting a goal of mine. It smells SO good!
And last but definitely not least: I've been listening to Renee Rapp's (Leighton on Sex Lives of College Girls!) album Everything to Everyone on repeat and it is incredible. Highly, highly recommend to anyone that loves Olivia Rodrigo or has been listening to Midnights on repeat.
News
Men ROAST Toxic Female Gym TikTokers #3 – Inspired by ARAKO TV, MGTOW, The Poor Mans Podcast Reacts, MxRPlays..…