50 total views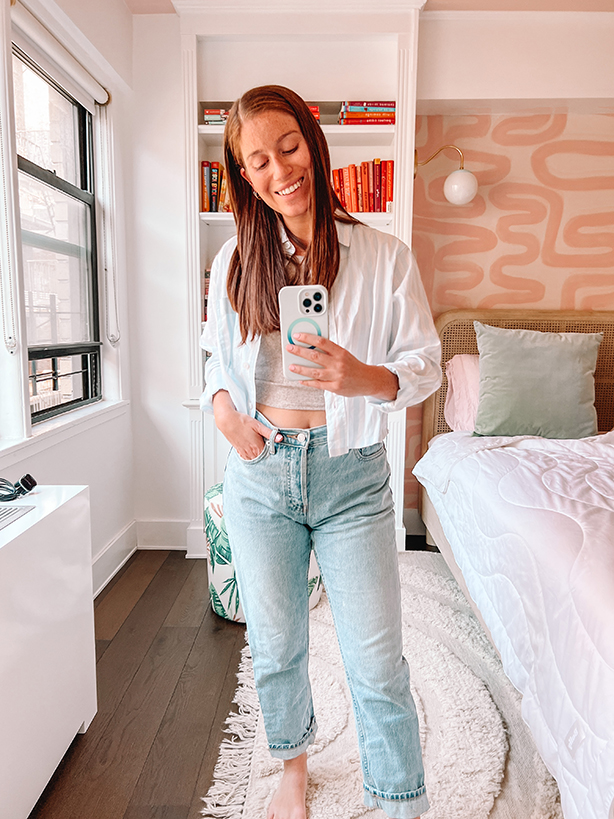 Is anyone else struggling with fall fashion this year? I truly have no idea what to wear and everything I own feels so… untrendy. I've never been someone super obsessed with fashion trends but it's left me feeling so blah about all my clothes.
My career has almost always been as a fitness instructor or working at fitness start-ups so for most of my adult life I've lived in workout clothes. It's weird to me to even have the option to wear real clothes!
I work from home so in theory I can get away with wearing anything I want for work, but I've also realized I really like getting dressed in real clothes (AKA jeans or a dress) for the work day. I'm also on camera a lot making TikToks and Reels for work and like feeling somewhat put together for that.
All summer I wore cute dresses, matching shorts sets, or oxfords shirts with jean shorts. But now? Ugh, everything I own for fall feels very 2015. I don't even know what to wear out for a simple dinner with a friend.
I don't want to totally overhaul my wardrobe because: A. That's expensive, and B. Trends are trends. Come next year I might be having the same meltdown. So, here's what I'm thinking:
Start with the basics
I have a few pairs of jeans I actually really like which is a good start. I'd still like to find another pair or two of jeans most likely from Madewell or Everlane that aren't skinny jeans circa 2015.
For tops, I have a few basic tanks and tees that I like, mostly from Everlane. I want to buy a few more of them so I'm not constantly grabbing for the same black tank all week.
Keep it simple with an outfit formula
Last year I got into the idea of having an outfit formula, this simple template for my outfits. It's not rocket science, but I've had to remind myself that I do *know* what I like:
Jeans + basic tank or tee + cardigan or blazer + boots or white sneakers
Now it's just a matter of updating the clothing items that feel outdated like an oversized blazer instead of the the fitted ones I have.
Try a clothing rental service
I've never used a clothing rental service for every day clothes — just Rent the Runway for a few weddings — but I'm really intrigued!
Nuuly is from the same parent company as Anthropologie and Urban Outfitters and seems like a great options for every day fashion. You get 6 picks a month for $88 and they have a lot of brands I already love like Anthropologie of course but also Farm Rio and others.
They have a lot of fun cardigans and blazers which will be easy to style with the jeans and basic tops I already own. It will also be a chance to try more trendy pieces without having to commit to the price and making the space in my closet.
So, that's where I'm at! I haven't bit the bullet yet on Nuuly since I heard you can't change your billing cycle once you start it so want to put some thought into if there's a specific timing I want for future travel. But it seems like a fun, low-risk option that's cheaper than overhauling my whole closet. I'll report back with any updates!
News
If you're lucky enough to have found a favorite brewery—where you get excited about every new beer release—you should…