11 total views
1. Alpine Loop Byway, Colorado
Deep in Colorado's San Juan Mountains, the Alpine Loop Byway is a 63-mile alpine tundra road that takes about seven hours to navigate. Noteworthy waypoints along the way include the Animas Forks ghost town, Cinnamon Pass (12,640 feet) and Engineer Pass (12,800 feet), as well as Silverton, Ouray, and Lake City. Peak season is June through October when the area is splashed with summer greenery and wildflowers. Note: Most portions are inaccessible during winter because of snowfall. If you're in need of a 4×4 vehicle, rental services are available in the neighboring towns.
Difficulty: Moderate, 4WD vehicle recommended.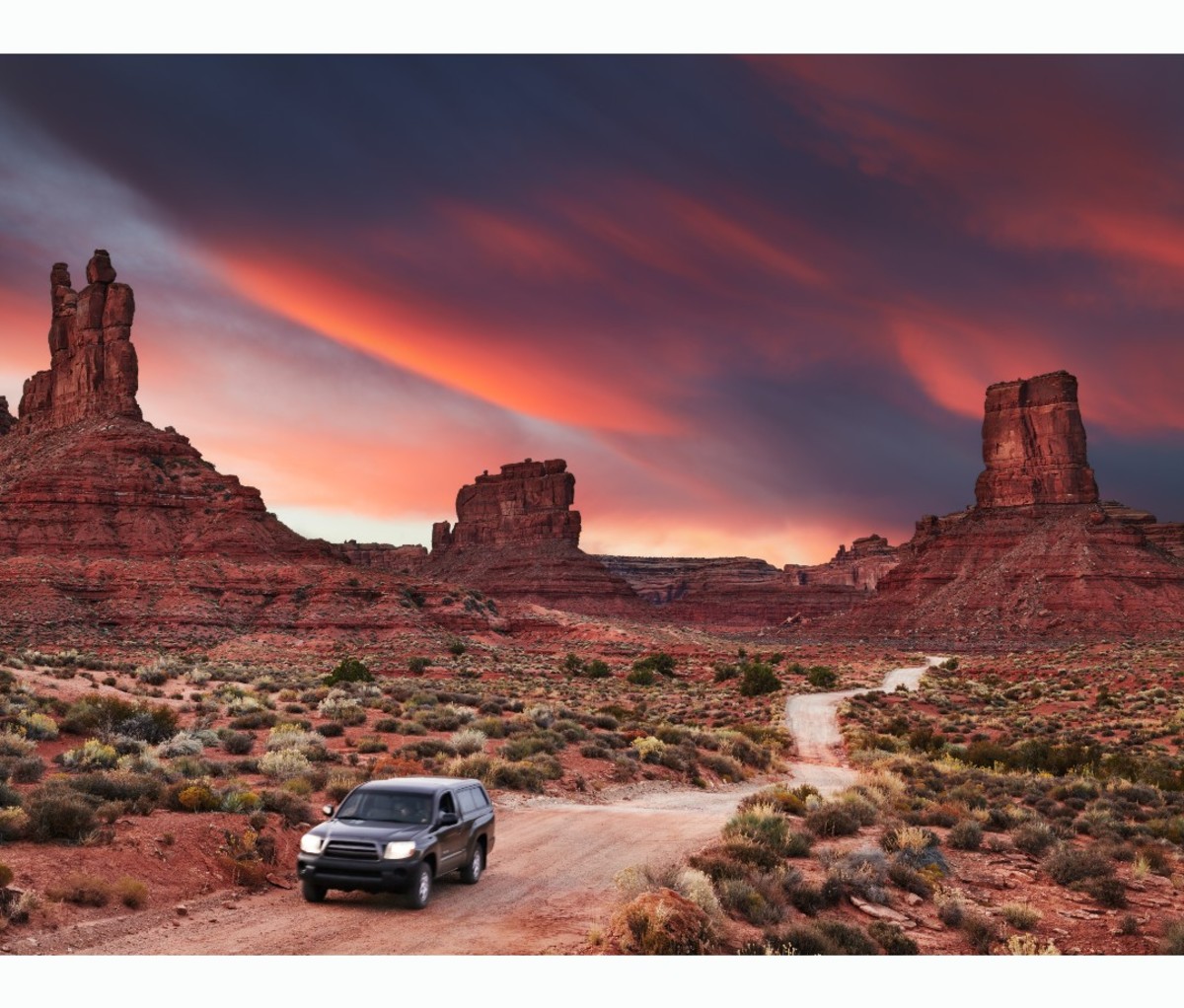 2. Valley of the Gods Road, Utah
Considered Monument Valley's younger sibling, Valley of the Gods Road stretches for 17 miles past Utah's revered mesas, pinnacles, monoliths, and rocks shaped over millennia by nature's elements. Start on US 163 and end on Route 261, where you can link up with the switchback road carved into the cliff edge of Cedar Mesa. Dispersed, primitive camping spots along this route are roomy, flat, and quiet, perfect for setting up camp for a night or more. Bonus: While a high-clearance vehicle is recommended, it's possible to navigate the washboard gravel road in a sedan or RV—as long as you take it slow.
Difficulty: Moderate, but a high-clearance vehicle is not necessary.
westtexasfish / Shutterstock
3. High Water Mark Trail, Arkansas
Also known as the Ozark Overland Trail, this 140-mile route links the Arkansas cities of St. Joe and Cass via dirt forest service roads, tight old logging roads, off-camber tracks, and some pavement. Plan to be gone for two to three days. Navigable obstacles include water crossings, mud bogs, and bedrock shelves. Its best season is fall, when the plant life shows off golden and amber hues. Because of the creeks along the way, check weather conditions to make sure rain doesn't impact your journey. Another tip: Don't forget to bring recovery gear—like a winch and chainsaw—for getting unstuck and clearing the road.
News
https://linktr.ee/kineticbands http://myosource.com/abdominal-workouts/ Click here to learn how Grace stays in shape. Kinetic Bands® are an effective resistance bands training…