17 total views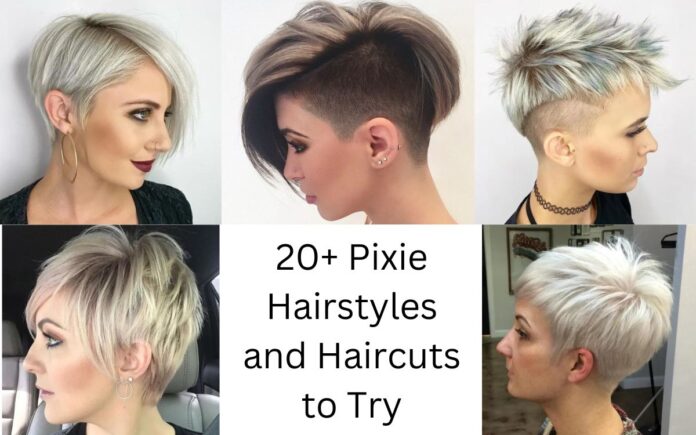 Pixie hairstyles are the best pretty-looking hairstyles for modern women. They can make you look more expressive too. They are easy to style and give you the cutest look with minimal styling.
Check out our pixie haircut images to find your best match.
These haircuts are super fancy. Having thin ends will make your haircut look fuller and spiker. In addition, the nape is trimmed to add more style to the complete style.
Two-toned styles always give you the best depth to styles. The top also has a good volume which makes the locs look flowy.
Having short hairstyles for a long face will make you look framed. This is because the sides have longer hair than the back to frame the face. The length and positions of the layers will change the complete output of the look.
Disconnected Blonde Balayage Pixie
If you have thin hair, this short hairstyle with thin hair can help you to infuse depth and texture to your hair. Use non-greasy hairspray or dry shampoo to get a wispy effect.
Embrace the cool-girl hair texture with choppy layers. While styling, go for an undone finish with the cool show-stopper look. The choppy layers are undeniably chic.
Shaggy short hairstyles for round faces will give you a lifted-up look. The misty greeny highlights are drop-dead gorgeous if you want a fresh hair color look.
Woah, this style really needs a strong attitude to carry it. If you want a stand-out style that speaks up for you, get this funky style here.
This is the easiest way to style without losing the volume of the hair. Blow dry and shake your head to release the volume.
Highlighted Pixie Undercut
Short hairstyles of 2022 are super hot and experimenting. Keeping the length longer than the usual pixie will change the point of vision of the haircut.
Asymmetrical Tapered Pixie
Asymmetrical chops will add up the much-needed volume for any haircut. A deep side part can give you the dramatic effect to look stunning.
Pixie bob hairstyles have lovely texture and volume, perfect for urban brides. Elongated layers will give you the prettiest vibe.
We are in love with the curves of this look. The best low-maintenance styles for curly head ladies. Opt for shine-providing hair sprays to ace this look.
Pixie with Long Wispy Bangs
Long bangs are perfect for getting a chic Asian look. Add hair gel to get the wet wispy look, or straighten up the bangs to get an angled fix.
Edgy Silver Pixie with Long sideburns
Older women looking for a trendy and cool hairstyle can try this edgy look. The natural hair color perfectly balances the sideburns and looks super blended.
Jet black long shaggy pixie with curtain
Black short hairstyles for ladies are spotlight stealers. The black locs look adorable and stunning when styled with curtain bangs.
Modern women love on-the-go styles which require minimal attention. This style is one of those easy maintenance looks.
Edgy pixie with hard part and undercut
Who said only young people could have all the fun and fashion??? Look how dope this lady looks with an undercut and design.
For lovers of chic and classic, angled pixie is the best hairstyle. Smooth and tousled locks will make it much better.
Stunning short pixie with wispy bangs
We love how fresh and beachy this wispy style looks. You can try this with any hair texture and color; it will look flattering.
Love carefree looks? Opt for an uneven shaggy haircut like this. The locs have different lengths and are placed in different directions to give a chaotic contemporary vibe.
A bright personality can pull this bowl hairstyle effortlessly. The coarse hair gives you the best texture for this look.
Swept-back pixie with an undercut
Silver-blonde is the hottest hair color a lady can ever have. Look how hot and sexy this swept-back style looks.
Conclusion
Pixie haircuts can make you go from pretty to hot and cute to sexy with minimal effort. It's all about how you style it. Use volumizing sprays and shampoos to get the best out of these styles.
These hairstyles are perfect for highlighting your facial and neck features. So pick the best style from our collection and rock the fresh summer look.
News
What's on track to keep fitness fresh next year? Lean in because we've got the scoop on all things…