12 total views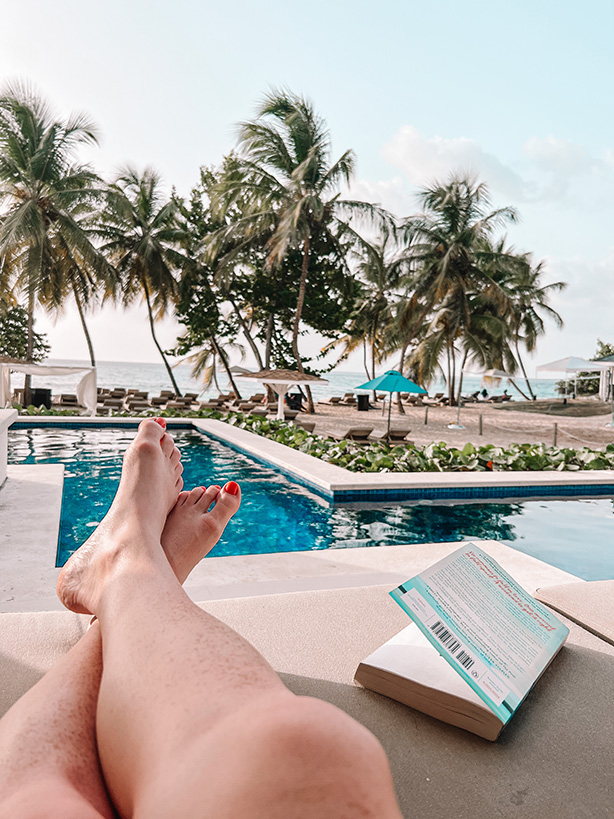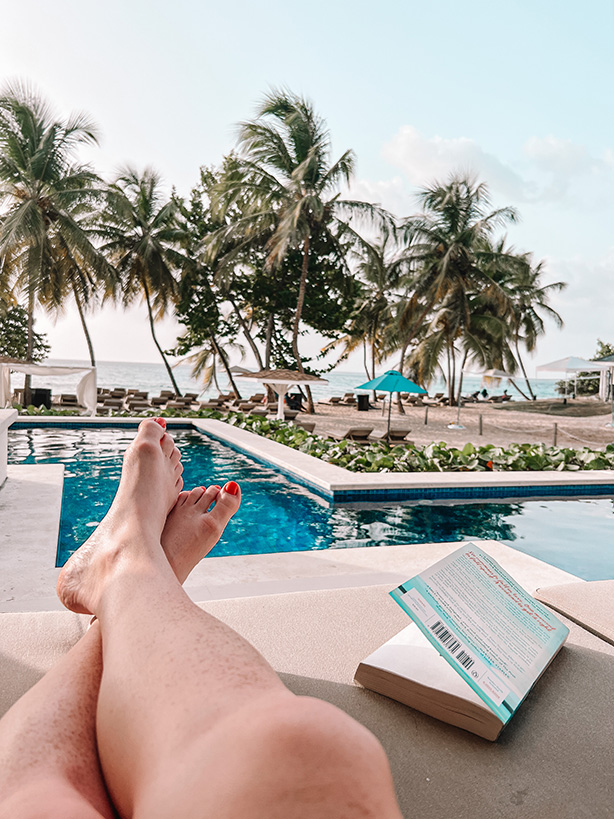 Buckle up friends, I got a lot of reading to recap! I think this might be the most books I've ever read in a month thanks to going on a beachy vacation to Grenada for a few days. I've been saying I want a reading vacation, and that it definitely was. There's nothing better to me than spending the day reading out in the sun.
I loved everything I read this month, but really really loved Every Summer After. It was the first book I read while on vacation and I loved it so much that I almost couldn't start another book because I knew nothing would compare to it. You've been warned: The book hangover was intense.
On paper, this book doesn't sound like my kind of thing. A science fiction romance with aliens. Okay… But after hearing quite a few people rave about this book I was intrigued.
A group of women has been abducted by aliens and put on a rocketship heading to god knows where. After some issues, the rocketship lands on a freezing cold, desolate, planet. Courageous Georgie, one of the captured women, goes off in search of help and finds Vektal, a very hunky barbarian alien who claims she is his mate.
What unfolds is arguably the most steamy romance I've ever read (and that's saying a lot) and it's between a human and an alien. As I said, I didn't think it would be for me but I found myself very invested in their relationship. There are also about 20 more books to read in the series! I will definitely be checking them out soon.
My Rating: 4/5 Stars
I always joke that I don't actually *love* reading romances, but sometimes I don't know what else to read so it's what I default to. After a while, the cliches and tropes are just too fake for me. This book? A surprisingly refreshing take on the genre.
Journalist Chani Horowitz may or not have hooked up with movie star Gabe Parker when she was interviewing him for a profile that went mega-viral. The article propelled her into fame but also created a lot of buzz with the tabloids. Now it's 10 years later and she's been asked to interview Gabe once again and recreate the magic of her first article. Which also means unpacking what really happened between them.
This book had so many things I love. I'm a sucker for a celebrity and normal person romance (uh, hello my favorite book is The Idea of You!) The main character is Jewish and I related to her on a lot of levels. It had the most honest commentary on how hard friendships are as an adult. AND the main character has a blog. On top of that, I loved the romance that unfolded. It's everything I want in a book all at once.
My Rating: 4.5/5 Stars
Okay, this book came with A LOT of hype. Truth be told, Emily Henry's previous books have been hit/miss for me. I think I'm the only person that didn't rave about People We Meet on Vacation but I was a fan of Beach Read. I was excited to dive into this book about two people in the publishing industry.
Literary agent Nora is your quintessential take-no-crap New Yorker. She is a far cry from the heroines of the books her clients write. While spending the summer with her little sister in small-town North Carolina, she runs into her sort-of revival, book editor Charlie, in a would-be meet-cute… except that they've already met a few times. So begins a will they/won't they romance in this small town.
This book is incredibly self-aware and I appreciate that it points out all the romance cliches and tropes before they can annoy me. The middle lagged for me a bit, but Emily Henry does have a truly delicious way of writing dialogue that kept me invested.
Overall, I enjoyed this book that truly is for book lovers
My Rating: 4/5 Stars
Oh, this book. I can't think of the last time I loved a romance THIS much. I. Am. OBSESSED.
When Percy's family bought a summer house on a gorgeous lake in Canada, they probably didn't expect their daughter's life would become so entwined with the two boys that lived next door. The oldest, Charlie is a charming and handsome troublemaker, while the younger brother Sam is adorable and nerdy. They became fast friends with Percy, but she's especially always had a thing for Sam.
As Percy and Sam get older, their relationship becomes more intense. This book is told over the course of six summers and one weekend in the present. It's a fantastic slow-burn romance about first loves, and the mistakes we make with a cast of flawed characters that I couldn't help but fall in love with.
As I said earlier, it was the first book I read while I was on vacation and it set the bar SO high. I needed a thriller palate cleanser because I knew no other romance would compare. Please go read this book so I can discuss it with you after 😂
My Rating: 5/5 Stars
I love a YA thriller because it's all the twists and turns of a thriller but none of the nightmares. I've heard nothing but good things about this book — and it's also been adapted to a series! I knew it would be the perfect fast-paced vacation read.
I'd describe this book as The Breakfast Club but the outcast ends up dead during detention. Now everyone else who was there is a suspect… and trying to figure out who exactly did it. Everyone has a secret (or two) that they are trying to keep under wraps and no one is without reason for wanting the victim dead.
Told through the different perspectives of everyone that was there, this book keeps you guessing to the very end. It's my kind of super fun but not-too-scary thriller.
My Rating: 4.5/5 Stars
I've been a huge fan of author Emma Straub for a while now. Her books are always a perfect blend of fabulous writing and complex characters.
It's Alice's 40th birthday and her life is feeling stagnant. She's also dealing with the slow decline of her dad who raised her on his own. She then magically wakes up the morning of her 16th birthday. The year is 1996 and she now has the ability to change the course of her (and her father's) life.
This book was the perfect blend of nostalgic, heartfelt, and with just a hint of magic. I loved this book and think it would be a great pick for a book club. I know I'm excited for my mom to read this book so I can discuss it with her.
My Rating: 4.5/5 Stars
This post contains affiliate links.
Thank you for supporting Kayla in the City (and local bookstores!)
News
This article was originally published by Kaylainthecity.com. Read the original article here.